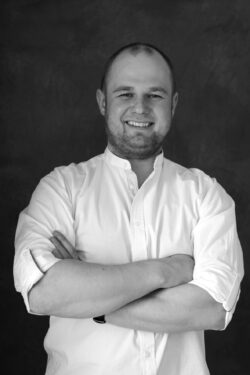 Mait Kommusaar started in Codelive as a software developer six years ago. After being invited multiple times, it was a decision he made, and he has never regretted it. His interest in computers started already in Junior High and was encouraged by the government's IT program, Tiigrihüpe (Tiger's leap), which helped to develop and spread knowledge on information technology in schools. After the school lessons, Mait spent his time mostly in computer class or training, playing different ballgames and doing athletics. He knew in eighth grade that he wanted to continue studying computer science in Nõo Real Gymnasium. To be admitted, he worked tediously on his IT skills. Mait passed the entrance exams with flying colors. Later on, his brother and sister also attended the same school, but Mait was the only one in the family to continue working in the field.
After graduating high school, Mait went to the army, and once the mandatory serving time was over, he entered the faculty of mathematics and information at Tartu University. Once again, to get in, he had studied hard to pass his exams in high school to maximum scores. He started working in IT while studying and graduated both on Bachelor's and Masters's levels. A big and important part of his life is practicing a healthy lifestyle and sports. Mait participates in skiing, cycling, and running in the Tartu Marathon series. "One must be active to stay healthy," says Mait. Being a versatile man, he's also good at construction work. Mait helped to build his own house, and thanks to that, he feels even more at home there.  
Mait could be characterized as someone who keeps his word, is responsible, and doesn't hesitate to weigh in first. He works hard and goes deep into every topic. "Writing code is done only when you have thought through all nuances and possible scenarios, and the service runs smoothly in every situation. 
Taking the time to rest is also crucial. That's the reason why Mait likes to emphasize mind-refreshing team outings in Code Lab. Mait always leaves his computer behind when going on a holiday. He turns the work mode entirely off. It keeps the balance in life. Mait appreciates the versatility in his team: "We have people in our team that we can all learn from. Fun is also part of it. We do cool things and sports together. The work-life balance is in order. The goal is not just to write code but to do it alongside amazing people." 
The Codelive clients are also versatile, so the team gets to work on different projects. The bigger ones have multiple people working on them. "There must be mutual understanding and a somewhat similar way of thinking regarding IT. When programming, the style should be akin. We've practiced a lot and grown together during those times. That's why we all have a similar style in the basics of programming. One must also tolerate other approaches because the most important thing is that it all works," Mait says. He values mutual understanding the most. His code writing mentor is Uncle Bob. One can learn so much from his videos. 
Mait says people should be motivated to learn and open-minded when it comes to a good working environment. "One must admit when they have made a mistake and be open to suggestions because dialogue leads to better solutions. I like it when everyone does their thing well and deeply. Being superficial doesn't create good cooperation." The teamwork in Codelive is spot on, and people have grown together workwise. It's one reason why there are very few people leaving the company. "Interpersonal relationships are very important. If people don't get along or don't communicate with each other, nothing good can come of it. Keeping the dialogue going creates great solutions. It's also OK when you realize that something just doesn't work," explains Mait. Project-based stand-up meetings where everyone gets to report on the current situation of their projects and ask for help if need be are also part of good cooperation. "Short and efficient meetings are essential because there's the supporting time frame to layout problems and get input," values Mait, the work mode in Codelive.  
Mait is one of those team members trusted to do meaningful projects and tasks. One could say he is the true mastermind behind the most critical ones. He gladly takes on everything he gets offered and takes them to the successful finish. "Programming is a field of complicated daily situations, but you get to the solution. I've always been recognized for good work, and I try to pat others on the back. Because it's important for people."  
Even though Mait is a work enthusiast, his family is very important to him: "Best moments in life are the ones I can spend together with my wife or with the whole family." They travel at least twice a year. Usually, it's a European road trip by car and skiing in Finland. It's the time to switch off from work and focus on quality time with loved ones.
Would you like to work for us? Drop a message